FLEX COAT Rod Building Equipment
SW2 - FLEX COAT Speed Wrapper 2



The perfect machine for those who prefer the direct control and tactile feel of a manual powered speed wrapper. Always ergonomically correct no matter which part of the rod you're wrapping. With experience and certain types of rods (fly rods and light rods with no underwraps), adept builders can match or even surpass the speed of builders using powered wrappers. Same high quality components as our higher-end model powered wrapper with a uniquely designed rear thread feed/tension assembly. Accepts 1 and 4 oz. thread spools and secures easily to most tabletops with included clamps.

---
DL747 - FLEX COAT OEM Power Rod Wrapper



Designed for the professional, our top-of-the-line powered wrapper is made with quality components and is the most ergonomically 'correct' and 'motion efficient' powered wrapper on the market today. Those who do this for a living will appreciate that all the critical components are logically laid out and are a breeze to adjust and setup. Add features like: • variable speed foot control • engineered roller supports • independently controlled and uniquely designed thread feed/tension assembly • industrial grade USA made wrapping motor with self adjusting chuck, and you have a powered wrapper that will outperform any other wrapper available today! Accepts 1 and 4 oz. thread spools.
---
FM200 - FLEX COAT Cordless Finishing Motor



High quality, quiet 7 RPM motor with self-adjusting chuck for rotating a rod while applying and curing Flex Coat Rod Finish. Comes with a stable vinyl coated stand and a v-upright support for any rod length. Thousands of hours of operation on one 6 volt battery included.
---
4X-6 - FLEX COAT Professional OEM Power Drying Unit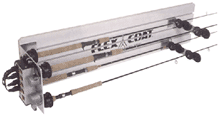 Holds 4 rods, wall mounted, suitable for tackle shop repair operations or stackable for mass production OEM purposes. Continuous duty 6 RPM or 18 RPM motor standard. On-off lights and switches.
4X-6...FLEX COAT 6 RPM Dryer
4X-18...FLEX COAT 18 RPM Dryer
---
RL100 - FLEX COAT Cork Lathe Set-up



Set-up includes motor stand with motor clamps and 2 sets of roller supports. Adapts to almost any hand drill. Sturdy, commercial duty. This lathe is fantastic for shaping cork and foam grips. NOTE: We use a variable speed 0-2500 RPM, 4.0 amp hand drill.