FLEX COAT Offers 2 Improved Formulas of Rod Wrapping Finish
In keeping with our tradition of providing rod builders with the latest advances in technology, Flex Coat is proud to introduce our new Ultra V formulation. Ultra V's unsurpassed UV protection and improved chemical stability results in unequaled clarity and brightness, while maintaining the highest durability and flexibility properties of any finish on the market today. Professionals will appreciate the extended pot life and improved self-leveling properties of these finishes. Available in our High Build and Lite formulations.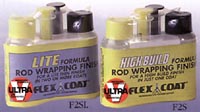 F2SL: LITE formula designed especially for lighter, thinner coats.
F2S: HIGH BUILD Formula for a professional finish in just one coat.

Color-Coded, Reusable Syringes - supplied with two ounce kit, guarantees exact, accurate measurement of Flex Coat 50/50 mix. Easy-to-use instructions included.
High
Build
Lite
Formula
F1K
F2K
F2S
F2P
F4Y
F8
F32
F128
F1KL…24cc Flex Coat Loaded Syringe Kit
F2KL…2oz. Flex Coat Super Kit
F2SL…2oz. Kit Flex Coat w/Syringes
F2PL…2oz. Kit Flex Coat w/Syringes-Peg Board
F4YL…4oz. Kit Flex Coat w/Yorker Cap
F8L…8oz. Kit Flex Coat
F32L…Qt. Flex Coat
F128L…Gal. Flex Coat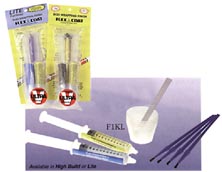 FLEX COAT Loaded Syringe Kit
Large 12cc syringes come filled and ready to use. Enough finish to complete 4 average rods. Kit includes a 12cc syringe loaded with part "A" resin, a 12 cc syringe loaded with part "B" hardener, 4 finishing brushes, 4 mixing cups and 4 mixing sticks.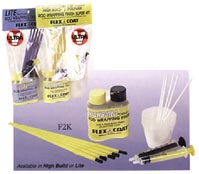 FLEX COAT Super Kit
This Super Kit includes 2oz. Kit Flex Coat Rod Wrapping finish, 2 color coded syringes, 5 finishing brushes, 5 mixing cups, and 5 mixing sticks.