Weaving Supplies

Create your own weave design on your rod to set it apart from ordinary custom rods. We stock all the materials and tools you need to begin weaving.
• Patterns
• Every Color of Thread Imaginable
• Rod Builders Masking Tape
• Kel's Jig or The Wonder Weaver
• Rod Builders Detail Light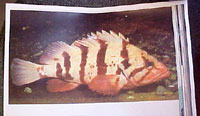 Fish photo used for weave demonstration.
Weave in progress:



Photo and design by Kerry Hansen, Hansen's Custom Rods
Weaving Patterns
All patterns are laminated so that you can use them over and over without destroying the paper when erasing your check marks. Lots of species to choose from or have your own design custom made for you! This is a special order which would also be laminated, complete with directions, all ready for you to begin weaving. For the complete line of patterns in stock see the following PDF of pages 36-38 from the Merrick Tackle Catalog.

---
Kel's Thread Weaving Jig
Includes 2 jigs, 1 for Size A thread and 1 for Size D thread.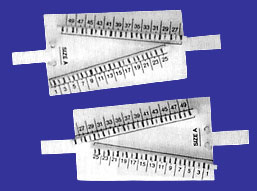 ---
Renzetti Wonder Weaver

Perform any standard weave, plus much more.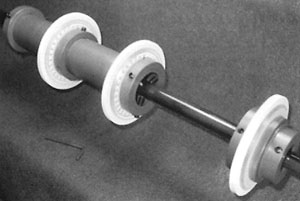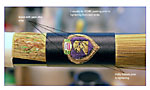 Doc Ski's Thread Art

Packing and Rolling Decorative Thread Art
View PDF
How to use a simple weaving jig
Free Alpha-Numeric Chart for Weavers
(note: this is a PDF file)
WEAVING PATTERNS by Mark Crouse
All patterns are laminated so that you can use them over and over without destroying the paper when erasing your check marks. All schematics are left list.

FRESHWATER FISH WEAVES
CROFW01 American Greyling
CROFW02 Jumping Trout 1 3D
CROFW03 Jumping Trout 2 3D
CROFW04 Turning Trout
CROFW05 Large Rainbow Trout
CROFW06 Medium Rainbow Trout
CROFW07 Small Rainbow Trout
CROFW08 Jumping Steelhead
CROFW09 Pink Salmon
CROFW10 Female Brown Trout 3D
CROFW11 Male Brown Trout 3D
CROFW12 Male Steelhead Jumping for Fly 3D
CROFW13 King Salmon
CROFW14 Red Band Steelhead
CROFW15 Fighting Largemouth Bass
CROFW16 Flying Bass 3D
CROFW17 Lunker Smallmouth Bass
CROFW18 Yellow Perch
CROFW19 Striper 3D
CROFW20 Tiger Trout
CROFW21 Steelhead 1
CROFW22 Turning Sockeye Salmon 3D
CROFW23 Sockeye Salmon 3D
CROFW24 Mad Catfish 1
CROFW25 Mad Catfish 2
CROFW26 Largemouth Bass 1
CROFW27 Brook Trout
CROFW28 Striped Bass 2D
CROFW29 Steelhead 2 (Male)
CROFW30 Walleye Turning 3D
CROFW31 Walleye 2D
CROFW32 Walleye Single Layer
CROFW33 Hunting Musky 3D
CROFW34 Musky/Pike 2D
CROFW35 Smallmouth Bass
CROFW36 Jumping Largemouth Bass 3D 1
CROFW37 Jumping Largemouth Bass 3D 2
CROFW38 Largemouth Bass 2
MISCELLANEOUS WEAVES
CROMIS01 Salmon & Steelhead Fly
CROMIS02 Stone Fly
CROMIS03 Kissing Love Birds
CROMIS04 Angler Fishing From Boat in the Sunset
CROMIS05 The Angler 1
CROMIS06 The Angler 2
CROMIS07 Lighthouse
CROMIS08 Pirate Rooster
CROMIS09 Rebel Flag

SALTWATER FISH WEAVES
CROSW01 Spotted Trout
CROSW02 White Shark
CROSW03 Mako Shark
CROSW04 Cod
CROSW05 Yellow Fin Tuna
CROSW06 Red Drum Jumping 3D
CROSW07 Snook
CROSW08 Albacore
CROSW09 Wahoo
CROSW10 Jumping Tarpon 3D
CROSW11 Sailfish
CROSW12 Blue Marlin
CROSW13 Red Drum 2D
CROSW14 Blue Fin Tuna
CROSW15 Cobia