A good quality winding thread can cure a lot of ills simply by not causing any. Fish Hawk Rod Winding Threads were developed specifically to provide trouble-free performance to both custom rod builders and O.E.M.s. Our pledge to you is simple, to provide the highest quality products and selection available.

The highest quality products, and constant available.
• Our special high tenacity nylon is formulated and twisted specifically for rod winding.
• Our metallic threads are unequaled in luster and windability.

OPAQUE
Fish Hawk Opaque requires no color preservative. Rod finish may be applied directly without any special preparation thus saving time. Fish Hawk Opaque comes in size C and 21 rich colorfast colors. It is packaged on 100 meter spools and 1 oz. spools.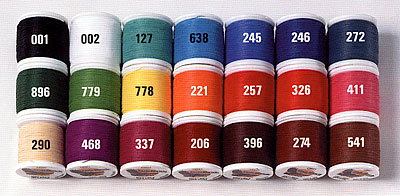 Opaque Thread: Size C
001 Black
002 White
127 Aqua
206 Garnet
221 Orange
245 Royal Blue
246 Dark Blue

257 Rust
272 Blue Dun
274 Chestnut
290 Tan
326 Scarlet
337 Maroon
396 Dark Brown

411 Hot Pink
468 Purple
541 Medium Brown
638 Teal
778 Lemon Yellow
779 Medium Green
896 Dark Green
METALLIC
Fish Hawk Metallics are the finest metallic threads in the world. We start with a nylon core for maximum strength and windability. Then we apply rice paper for ultimate flexibility and bonding. The metalizing is silver alloy (not aluminum) so it won't tarnish or lose its luster and shine. Finally it's finished with a polyester film which keeps it smooth, supple and fray resistant. Fish Hawk metallics are available in size A in 100 yard and 500 yard spools.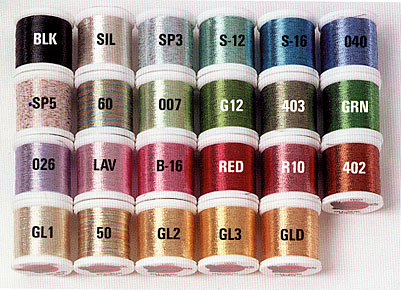 Metallic Thread: Size A
GLD Gold
GL1 Gold 1
GL2 Gold 2
GL3 Gold 3
SIL Silver
SP3 Silver/Lt. Blue
50 Red/Gold
60 Blue/Pink
SP5 Gold/Pink
LAV Lavender
S12 Aqua
B16 Carnation
RED Red
R10 Terra Cotta
S16 Sapphire
40 Persian Blue
GRN Green
G12 Spring Green
403 Jade Green
007 Pale Green
402 Copper
BLK Black
026 Purple
NYLON
Fish Hawk Nylon Thread is especially engineered for the demands of rod wrapping and an excellent choice for lures, wrapping jigs and tying bucktails. Our special high tenacity nylon assures you of unequaled strength and our colors are the brightest and most consistent in the industry. Fish Hawk nylon is available in 20 colors in sizes A and D in the following put-ups: 100 meter spools; 1 oz. spools.
Nylon Thread: Size A
001 Black
002 White
206 Garnet
209 Goldenrod
221 Orange
245 Royal Blue
246 Dark Blue

257 Rust
272 Blue Dun
274 Chestnut
290 Tan
326 Scarlet
337 Maroon
396 Dark Brown

411 Hot Pink
468 Purple
541 Medium Brown
778 Lemon Yellow
779 Medium Green
896 Dark Green