Camo/EVA
| | | | | |
| --- | --- | --- | --- | --- |
| | | | | |
| Night Camo - NC | Desert Camo - DC | Blue Camo - BC | Green Camo - GC | Arctic Camo - BW |
---
Get Creative with Mooseskin® in Color

Made from EVA Foam
Synthetic material with the weight & density similar to cork.
Only available in 24" lengths, can be cut to desired length.


No.
7C2438-
7C2412-
7C2458-
7C2434-
Length
24"
24"
24"
24"

I.D.
3/8"
1/2"
5/8"
3/4"
O.D.
1-3/16"
1-1/4"
1-3/8"
1-1/4"


EVA in 26 colors
(blocks, strips, shapes)
Color Chart: SPECIFY COLOR CODE
Note: colors available for 7C2438: B, YL, W, BLU, RED, MR, HUN, SB, GC, BW, BC

BBV - Blue/Black Grained
SB - Sky Blue
GR - Grey (solid)
TV - Tan Grained (Korkalon)
BG - Black/Grey Grained
BB - Lt. Brown/Dk Brown Grained
B - Black
BV - Dark Black/Shaded Black Grained

RB - Red/Black Grained
LG - Light Green
YL - Yellow
W - White
PU - Purple
PN - Pink
BLU - Blue
DG - Dark Grey
HUN - Hunter Green
MR - Maroon
RED - Red
LOR - Light Orange
PER - Periwinkle
CO - Coffee Brown
GC - Green Camo
BC - Blue Camo
BW - Arctic Black & White Camo
NC - Night Camo
SGR - Sea Green
DBL - Dark BLue
We carry the contact glue and Rubber Cement you need for inlays.
See our catalog.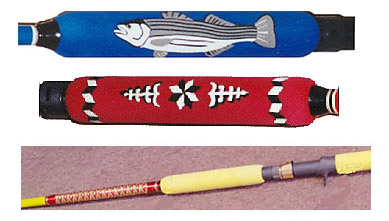 (Top) Inlay Grip Designs by Bernie Cohen.
(Middle) Camo Colors: Blue, Arctic, Green
(Bottom) Custom colored grip by Steve Petri.

COLOR EVA BLOCKS
Tailor these blocks to create truly unique custom grips and butt caps. The block material easily lends itself to be shaped by turning and reaming. Trim off the edges with a cutting tool and then sand to your finished shape. You will find this as easy to work with as cork. To create difficult inlays, work in block form and then finish to desired shape.
Sizes:
EVAB - Solid Block: 2"x2"x18"
EVAB12 - I.D. 1/2" Block: 2"x2"x18"
EVAB16 - I.D. 5/16" Block: 2"x2"x18"
EVAB34 - I.D. 3/4" Block: 2"x2"x18"

COLOR INLAY STRIPS
A great color selection of strips, perfect for creating intricate inlays for your custom rods.
Sizes:
EVA316 - I.D. 3/16" Block: 2"x18"
EVA516 - I.D. 5/16" Block: 2"x18"
EVAS18 - I.D. 1/8" Block: 2"x18"
Color Chart for Inlay Strips & Blocks

B - Black Licorice (Black)
P - Pewter (Dark Gray)
SM - Smoky (Light Gray)
RB - Royal Blue
SB - Sky Blue
F - Fire Red (Red)
GG - Grass Green

HG - Hunter Green
C - Coffee (Brown)
W - White
PN - Pink
YL - Yellow
PU - Purple
LOR - Light Orange

---
MOOSESKIN® BIG BUTT™ (Large Butt Caps)
Long EVA Butt Caps. Shim or ream hole for a proper fit.
Sand or bevel to desired shape.
No.
7BT112-
7BT114-
Length
3-7/8"
3-7/8"
O.D.
1-1/2"
1-1/4"
I.D.
3/4"
3/4"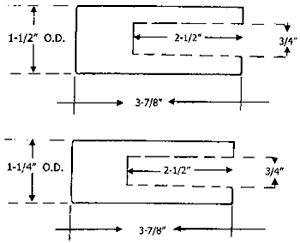 Color Chart for Mooseskin® Big Butt

B - Black
BLU - Blue
DG - Dark Grey
CB - Camo Blue Wave
CG - Camo Green
Red - Red

LOR - Orange
TV - Korkalon
GC - Green Camo
BC - Blue Camo
BW - Arctic Black & White Camo
---
Examples of grained grips. See Grips page for more samples.