BRONCO® JIG KEEPERS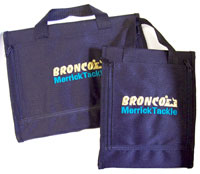 ADJUSTABLE REEL SEATS

U.S. REEL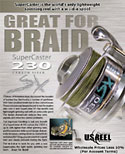 NEW BOOK!
DECORATIVE WRAPS
The newest rod building book to hit the market is Billy Vivona's Decorative Wraps. Over 100 patterns from basic to intricate - all levels of experience. Step by Step format - no guess work!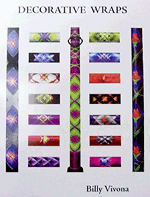 Item# VIVDWB
DEXTER RUSSELL
KNIVES GONE WILD!
Sani-Sations
Professional Cutlery

View Details
SUPER SEEKER PROJECT X
New State-of-the Art Blanks from Seeker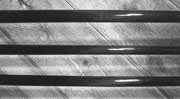 A Combination of Super "S" Glass 120-gram graphite and the latest epoxy Eho4 resin system
PREVIEW OUR NEW
Illusion/Prizmatic
Guides, Tops and Reel Seats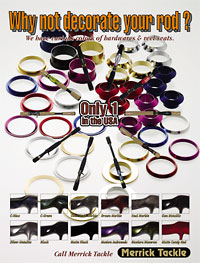 Click on image for larger view
HOMELY STICKS
Need a replacement for Shakespeare? Check out our Homely Sticks.
Clear Point Blanks
Solid unbreakable clear fiberglass tip on a combination of high density graphite core, covered by longitudinal glass fibers. All blanks are 7' in length. Finished in black spiral with clear tip.
No.
BWSML
BWCL
BWS
BWSH

Butt Size
.633
.770
.775
.840

Tip Size
7
8
7
10

Line Wt.
10-12
12-15
15-20
20-30

RETRO WOOD HOSELS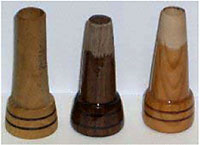 TRIANGLE™ MOOSESKIN®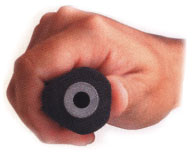 Triangle shaped EVA for surer grip and less wobble. Color: Black.
No.
7Z612
7Z838
7Z1012
7Z1058
7Z1312
7Z14116
Length
6'
8"
10"
10"
13"
14"
I.D. (in.)
1/2
3/8
1/2
5/8
1/2
11/16
O.D. (in.)
1-1/8
1-3/8
1-1/4
1-1/4
1-1/4
1-1/4

Now Stocking
DIE CUT DECALS by Bill Mar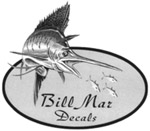 "Stick with the Best" - Stickers for your Stix
State-of-the-Art
Die Cut Decals in Full Color
THIN MASKING TAPE

1/8" - 1/16" - 1/32"
MOOSESKIN® IN CAMO
Mooseskin® is a custom blended high-density EVA, as light as cork and has the same feel as cork. It does not absorb water and is not spongy like other EVA. The best quality - often copied - never equaled! Only available in 24" lengths, can be cut to desired length. See catalog page 45 for our entire line of colored EVA.
No.

Length

I.D.

O.D.

7C2418
7C2412
7C2458
7C2434
24"
24"
24"
24"
1/8"
1/2"
5/8"
3/4"
1-3/16"
1-1/4"
1-3/8"
1-1/4"
NEW COLORS:
BC – Blue Water Camo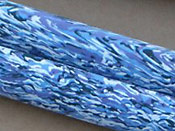 GC- Green Marsh Camo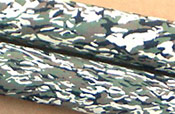 AC - Arctic Camo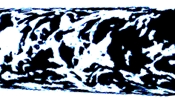 NC - Night Camo

Get Creative With
MOOSESKIN® IN COLOR

BORED ALUMINUM BUTTS

Swaged Economy Models designed for one-piece Trolling Rods. These are available in either black or silver, specify when ordering.
Note: For maximum strength, the blank must go all the way to the bottom of these butts.
WOOD REEL SEATS
Always had wood - Got more!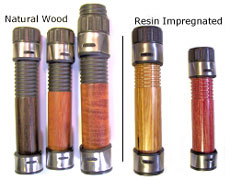 PAINTED REEL SEATS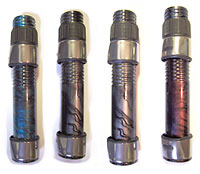 X-RUBBER SHRINK TUBE
Easy to install rubber shrink tube with added texture!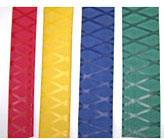 BRONCO®
WATER BOTTLE HOLDER



Standard feature on our Bronco® Pro Series BBPRO20 Lure Bag! This great little item hooks on to your lure bag or whatever & carries your drink. You can purchase this handy item individually.
Item# BBWBH
DEXTER RUSSELL
SANI-SAFE
Cut Resistant Gloves
JACKO HIKING POLES

AL GAG'S CUSTOM LURES
JAPANESE VERTICAL JIGS
RESIN IMPREGNATED WOOD BUTTS & GRIPS
Our ever popular Ash Wood Butts…



Taking a great product and making it better!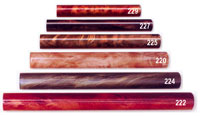 Introducing the next generation.



In all the great colors above.
TEXALIUM HANDLE TUBES
Tubing is available in Silver, Blue, Green, Brown & Red.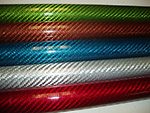 NEOPRENE FERRULE PLUGS


Click on image for larger view

Rodsmith Quad Dryer
Dry 4 rods at one time!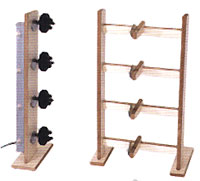 NEW ADDITIONS TO OUR DECAL SELECTIONS
Flame Decals


Junglecock colors in the Contour series
by Bill Mar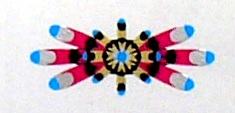 COLORED ALUMINUM WINDING CHECKS, BUTT ENDS, COLORED DISKS

PAINTED FUJI REEL SEATS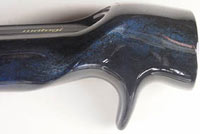 Once again, Merrick Tackle is offering you a product that is totally unlike anything else you can find elsewhere! These seats will give your custom rod a very ritzy look!
COLORED SLEEVE BUTTS

No.
Length
O.D. Front
in/mm
O.D. Back
in./mm
I.D. Front
in/mm
I.D. Back
in/mm
SBT2080
SBT21063
SBT21163
8.00"
10.63"
11.63"
1.20/30.5
1.20/30.5
1.20/30.5
1.30/33.0
1.26/32.0
1.18/30.0
0.96/24.4
0.98/24.8
1.06/26.8
1.02/25.8
1.06/27.0
1.06/27.0
Color Chart
B = Black; GB = Bronze. Overall color is Glimmer Bronze with hints of green and amber when seen in different lights.
MG = Metallic Green; MB=Metallic Blue

Note: For colored sleeve butts the durable color is applied over the standard sleeve butt.