Item#
SKY2069
Description
Advanced Custom Rod Building / Dale P. Clemens
"Informative, well-written. It covers the subject of rod building in a concise manner. It should be in every rod builder's library.
--Fly Fisherman
Dale P. Clemens's Advanced Custom Rod Building is the book that sent American Fisherman back to their workshops. Clemens believes that, both practically and philosophically, a rod is an "extension of the angler's hand." Accordingly, Clemens explains the principles necessary for making custom tackle that is superior to anything off the rack, as well as exhaustive figures, illustrations, and tables for the experienced builder. The book contains invaluable advice on how to build rods of every kind, how to choose (and make) the best blanks, seats, handles, grips, and guides, and how to finish and seal rods to make them as handsome and durable as possible. Stunningly detailed and thorough, Advanced Custom Rod Building is a complete guide to building-- a fisherman's most essential tool. This classic is a "must have" for both the novice and
experienced rod builder!





Item#
SKY2588
Description
Custom Rod Thread Art / Dale P. Clemens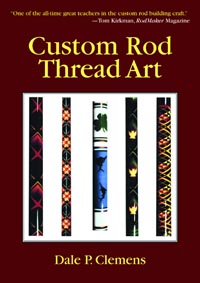 "Hand a person a custom made rod," says expert rod maker Dale P. Clemens, "and in almost every instance one of the first things he looks at is the decorative thread work, " Because a handsome rod is more desirable to own and fish. Clemens guides his readers through the organizational process of threading, illustrates the uses of patterns and replicas, explains how to wrap and weave, and gives his personal tips on how to make every rod "a never ending kaleidoscope of form, shape and color." Offering a sound introduction to the essentials of thread work on round surfaces and more than one hundred rod art patterns suitable for both advanced hobbyists and professionals, Custom Rod Thread Art is the authoritative work on the subject.
The author Dale P. Clemens is the founder of RodCrafters Journal. His work on custom rod making has made it one of the most important sectors of the entire fishing tackle industry.